Bayer MaterialScience, Bayer and Qilin Technology announced that they will cooperate with Bayfol® HX holographic display technology business and hold a signing ceremony at Bayer's Taipei office. Bayer and Qiling Technology Cooperation will lead the Taiwan optical industry to upgrade in all aspects of 3D holographic display.

Bayfol® HX is one of Bayer MaterialScience's cutting-edge technologies in the world of functional thin films. It is based on photopolymer and can be molded in 2D or 3D space. Full-image display technology.

It is understood that Qiling Technology is currently the first partner of Bayer in Taiwan's holographic display field. Through this cooperation, it is expected that the full-image display application products of Qiling Technology will be mass-produced and shipped in the first half of next year.

Features of Bayfol® include:

You can experience 3D effects with naked eyes:

In terms of visual effects, the graphics produced by Bayfol® HX film can produce 360-degree 3D images, which can produce 360-degree 3D graphics with depth and light effects in 2D planes. A stereoscopic image is projected in the degree space. Its strong sense of space and perspective not only allows viewers to get rid of the shackles of 3D glasses, but also allows them to easily experience 3D effects like 3D movies, and allows viewers to watch objects by moving their bodies. Light and shadow changes at different angles.

Provide world-class anti-counterfeiting protection:

The functional film using the optical polymer holographic technology can provide excellent anti-counterfeiting properties, and make the product transparent under direct vision. It can only display 3D graphics under the illumination of a specific angle plus a light source. In addition, the product copy threshold is greatly improved, achieving world-class anti-counterfeiting effects.

Energy saving and environmentally friendly process:

Breaking away the need for lengthy cleaning or heating processes, Bayer's Bayfol® HX photopolymer holographic technology takes only a few seconds to complete, reducing process and cost. And reduce the consumption of a variety of energy and equipment.

Bayer with full-image display technology and rich optical experience, can implement Bayer Bayfol® HX photopolymer polymer holographic display technology to 2D anti-counterfeiting, light source management, including computer Industrial design spaces for products such as communications and consumer electronics are used to enhance brand image and projector screens that can be molded in three dimensions.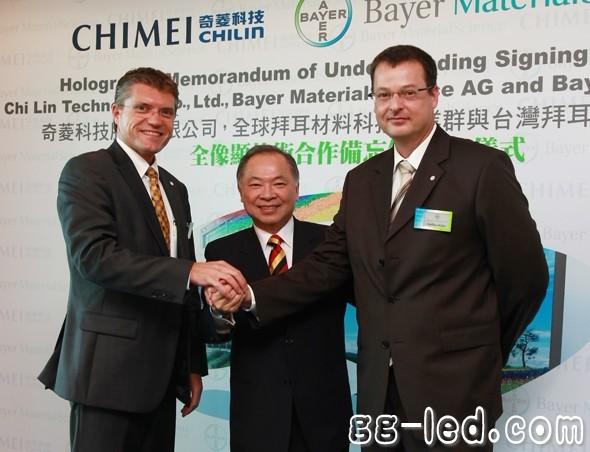 From left to right, Patrick Barth, Vice President of Global Markets for Functional Films of Bayer MaterialScience Group, Song Guangfu, Chairman of Qiling Technology, and Hu Diwen, Chairman of Taiwan Bayer

Standalone 802.3ah Managed Media Converter remote Managed auto-negotiation Ethernet Fiber Media Converter with OAM functions developed by our company. Remote devices can be managed by fiber-connected media converters/switches (which must support IEEE802.3ah standard).Offer one Ethernet port, one 100BASE-FX.100BASE-SX/LX optical port or SFP port.Support 4 kinds of OAM functions: Discover of OAM, MIB variable response, OAM Loopback, Dying Gasp alarm,Can query and configurate the operation mode of each port on local and remote devices, including port speed, full/half-duplex, and flow control, etc, and can display the real-time status of each port.

Managed Media Converter

Managed Media Converter,Media Converter Fiber To Ethernet,Ethernet To Fiber Converters,Media Converter,Managed Optic Media Converter

Shenzhen N-net Technology Co.,Ltd , http://www.nnetswitch.com