March 2, 2016 – Mouser Electronics begins to stock Lumileds' LUXEON XR-TX LED module. These LED devices combine 12 high-efficiency LUXEON TX LEDs in a single, rugged, thermally conductive metal core PCB. The LUXEON XR-TX module can be easily combined with third-party lenses and drives to quickly complete designs and bring products to the LED lighting market, including roads, tunnels and high/low shed luminaires.

The Lumileds LUXEON XR-TX module from Mouser is optimized for lighting applications where high power LED arrays need to be mounted on a rugged and thermally conductive substrate. The integrated LUXEON TX transmitter provides high throughput density through a unified source with tightly correlated color temperature control. The LUXEON XR-TX module produces 3,300 lumens of light and is available in 4000K, 5000K and 5700K color temperature specifications with a minimum color rendering index (CRI) of 70. The LUXEON XR-TX module achieves excellent panel-level efficacy of 140 lm/W at a color temperature of 4000K and a drive current of 700 mA.

Designers can cascade up to seven LUXEON XR-TX modules for a variety of system configurations and the necessary level of light. The LUXEON XR-TX module measures 150mm & TImes; 45mm, so designers can integrate modules with standard lens and lens board drives for easy system integration and faster time to market. With a wide operating temperature range of -40 to +85oC, the module meets the performance requirements of a wide range of environmental conditions and is ideal for outdoor and large area lighting applications such as street lights, high/low shed luminaires and stadium lighting.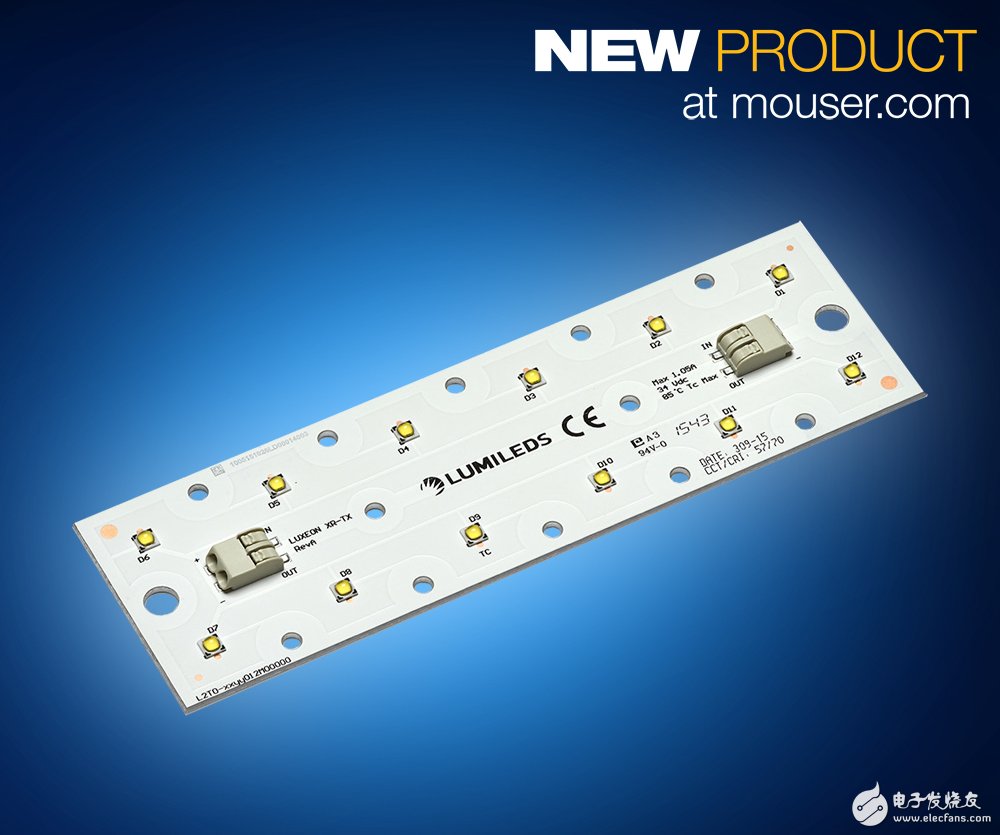 With a broad product line and superior customer service capabilities, Mouser meets the needs of design engineers and procurement staff with the latest generation of advanced technology. We are committed to providing local customer service and technical support in local language and local currency, and provide the world's most extensive selection of the latest semiconductor and electronic components for our customers' latest design projects through 21 customer support centers worldwide. The Mouser website is updated daily, allowing users to find more than 10 million products and find more than 4 million orderable item numbers for easy online purchase. Mouser.cn also provides industry-first interactive catalogs, data sheets, reference designs, application notes, technical design information, and engineering tools for experts and beginners.

About Mouser Electronics

Mouser is a subsidiary of TTI and is a member of Warren Buffett's Berkshire Hathaway corporate family. Mouser is a leading distributor of authorized semiconductors and electronic components dedicated to promoting new products and technologies to electronic design engineers and procurement in the fastest way possible. Mouser.com has more than 4 million products from more than 500 manufacturers. The multi-language version of the catalogue is published annually to provide designers with the latest component data for next-generation product design. Located in southern Dallas, Texas, Mouser has a state-of-the-art 492,000-square-foot warehouse that ships to more than 500,000 customers in 170 countries around the world.

About Lumileds

Lumileds is a global leader in light engine technology, developing, manufacturing and distributing breakthrough LED and automotive lighting products. The company is committed to breaking the status quo and helping customers gain and maintain a competitive edge. With a rich industry "first" history, Lumileds provides its driving force for the future of lighting with its unique positioning and unwavering focus on quality, innovation and reliability.
CABLE: Professional audio quality RCA cables for premium left right audio signal transfer from your home stereo, audio receiver, DVD, or player. Available in 6 convenient sizes ranging from feet.
COPPER CORE SHIELDED Audio Cable: Our double shielded oxygen free, copper core, prevents signal interference ensuring the highest quality audio transfer without static, or popping. Copper core allows for audio anywhere.
2X MALE TO 2X MALE Audio cable: cable connectors allow you to use the RCA audio cable with any standard stereo left/right output giving you crystal clear stereo sound and Hi-Fi audio for your home stereo or theater system.
24K GOLD PLATED CONNECTORS: KabelDirekt RCA cables feature professional quality 24k gold plated connectors which protect the cables from corrosion while ensuring a premium connection for the best possible audio transfer year after year.
CUSTOMER SATISFACTION GUARANTEED: we stand behind our RCA audio cables with a no questions asked customer satisfaction guarantee. If at anytime you are unhappy with your stereo cable return it for a full refund.
Audio cable

Audio Cable,Auxaudio Connector,3.5Mm Stereo Cable,Stereo Audio Cable

CHANGZHOU LESEN ELECTRONICS TECHNOLOGY CO.,LTD , https://www.china-lesencable.com