Model NO.: TBL 131 Clear With Magnet

Lens Color: Yellow, Blue, Green, Red, Clear

Install: Magnet/2 Wires

Inside Bulb: LED

Size: 135*150mm

MOQ: 100PCS

Waterproof: IP65

Voltage: 12-24V

Certificate: Ce-Mark

Function: Strobe /Rotating

Trademark: TOPLEAD

Transport Package: Colour Box/PCS 20PCS/CTN

Specification: ECE65 CE

Origin: China

HS Code: 85122090

Model NO.: TBL 131 Clear With Magnet

Lens Color: Yellow, Blue, Green, Red, Clear

Install: Magnet/2 Wires

Inside Bulb: LED

Size: 135*150mm

MOQ: 100PCS

Waterproof: IP65

Voltage: 12-24V

Certificate: Ce-Mark

Function: Strobe /Rotating

Trademark: TOPLEAD

Transport Package: Colour Box/PCS 20PCS/CTN

Specification: ECE65 CE

Origin: China

HS Code: 85122090

 Warning Light 

Features:Â 

Superior Output,Maxim Visibility.

Strobe Warning Light 

Dual Voltage 12V/24110V/220VOptions.

Reverse Polarity Protection 

Unbreakable and Durable Heat Resisitant .

-30ºC to +50ºC Extreme Temperature Operating Perfectly .

Strong Stability ,Shock Resistent ,Waterproof .

 

Advantage:

 

Model

 Warning Light (TBL131) Clear With Maget 

Working voltage
12V-24V
Packing    
1 PC in a Colo Box .20 PCS in a stong Carton . 
Color
blue Amber Red Green Clear
Usage
Utility trucks, construction vehicles, pilot cars, pickup trucks, tractors and farm machinery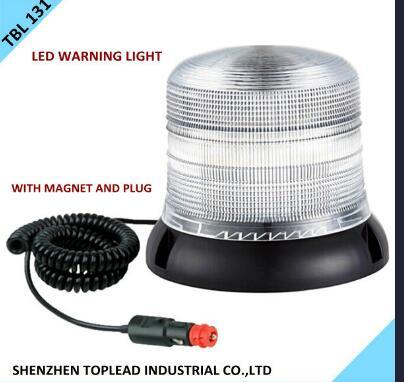 Company Information : Â  Â 

           

Shenzhen Top Lead Industrial company is a China-based leading manufacturer of auto accessories, offering in Asia, extending to the whole world market in a rapid speed.

We manufacture a full series of car accessories such as r wheel covers ranging from 12" 13" 14"to 15" 16", fixing to all types of car universally.

We also specialize in a series of car mats including complete rubber car mats, half rubber car mats, transparent pure car mats and so on.

We offer auto parts like fog lamps, car LED lights, brake lights, Head lights, seat cushions , car revolving signal lights. strobe lights, hid lights , automotive bulbs.

We offer a full production line-up of materials,plastic injection mould making, electronic application tests system. These enable us to make a high reputation of superior quality, prompt delivery and competitive price. Each year we turn out many new products designed by our customers or by ourselves.

These high designed and fashionable products enable us to take the lead in the same business line.

We take part great pride in all our products and we are willing to compete with any companies with better service for our clients.

We are a competitive supplier to the international market. Â Â 

FAQÂ 

 

Payment terms ?

 

30% Deposit By T/T Before Production and 70% Before shipment .

 

Trade Terms ?

 

EXW Shenzhn Port China .

 

Delivery time ?

 

Within 15-25 Days After Deposit .

 

How can I test product's  Quality ?

 

Sample is available .But not free . And you pay the Shipping Charge .

If We have samples stock we will send you recently .If we do not have we need time to produce .

 

How can you send Samples for me ?

 

By DHLÂ  /Â  FEDEX / UPS or other Express .

We also can send samples to your Chinese-agent . Or you have container to leave China .We can send goods to your address.  Warning Light 

Features:Â 

Superior Output,Maxim Visibility.

Strobe Warning Light 

Dual Voltage 12V/24110V/220VOptions.

Reverse Polarity Protection 

Unbreakable and Durable Heat Resisitant .

-30ºC to +50ºC Extreme Temperature Operating Perfectly .

Strong Stability ,Shock Resistent ,Waterproof .

 

Advantage:

 

Model

 Warning Light (TBL131) Clear With Maget 

Working voltage
12V-24V
Packing    
1 PC in a Colo Box .20 PCS in a stong Carton . 
Color
blue Amber Red Green Clear
Usage
Utility trucks, construction vehicles, pilot cars, pickup trucks, tractors and farm machinery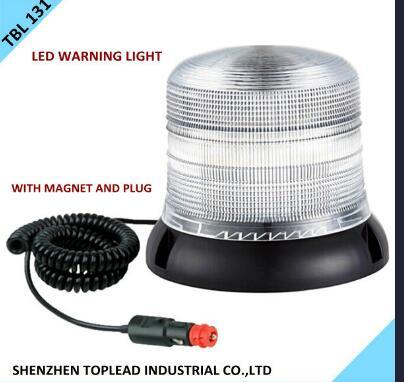 Company Information : Â  Â 

           

Shenzhen Top Lead Industrial company is a China-based leading manufacturer of auto accessories, offering in Asia, extending to the whole world market in a rapid speed.

We manufacture a full series of car accessories such as r wheel covers ranging from 12" 13" 14"to 15" 16", fixing to all types of car universally.

We also specialize in a series of car mats including complete rubber car mats, half rubber car mats, transparent pure car mats and so on.

We offer auto parts like fog lamps, car LED lights, brake lights, Head lights, seat cushions , car revolving signal lights. strobe lights, hid lights , automotive bulbs.

We offer a full production line-up of materials,plastic injection mould making, electronic application tests system. These enable us to make a high reputation of superior quality, prompt delivery and competitive price. Each year we turn out many new products designed by our customers or by ourselves.

These high designed and fashionable products enable us to take the lead in the same business line.

We take part great pride in all our products and we are willing to compete with any companies with better service for our clients.

We are a competitive supplier to the international market. Â Â 

FAQÂ 

 

Payment terms ?

 

30% Deposit By T/T Before Production and 70% Before shipment .

 

Trade Terms ?

 

EXW Shenzhn Port China .

 

Delivery time ?

 

Within 15-25 Days After Deposit .

 

How can I test product's  Quality ?

 

Sample is available .But not free . And you pay the Shipping Charge .

If We have samples stock we will send you recently .If we do not have we need time to produce .

 

How can you send Samples for me ?

 

By DHLÂ  /Â  FEDEX / UPS or other Express .

We also can send samples to your Chinese-agent . Or you have container to leave China .We can send goods to your address.