Recently, HTC issued a questionnaire on China's VR status, which is aimed at Chinese users in VR (Virtual Reality) product cognition, purchase intention, content preferences and other aspects. A total of more than 6,000 people participated in the survey. After cross-checking the data, a series of "numbers of VR" information graphics were launched to outline large images of the VR market. Now, look at it with Xiaobian: Count the first words of VR and teach you a minute to understand the virtual reality.

China ranks among the world's most promising markets for VR

Many people say that 2016 is the first year of VR. Since the beginning of this year, regardless of the newspaper and magazine media, or the industry's discussion about new technologies, it is inseparable from VR devices. Some people even say that VR devices will replace the location of smart phones. A new wave of technology new wave. What is even more curious is that everyone is always discussing VR, but how many people are ready to buy VR? Will VR cause a boom in the world?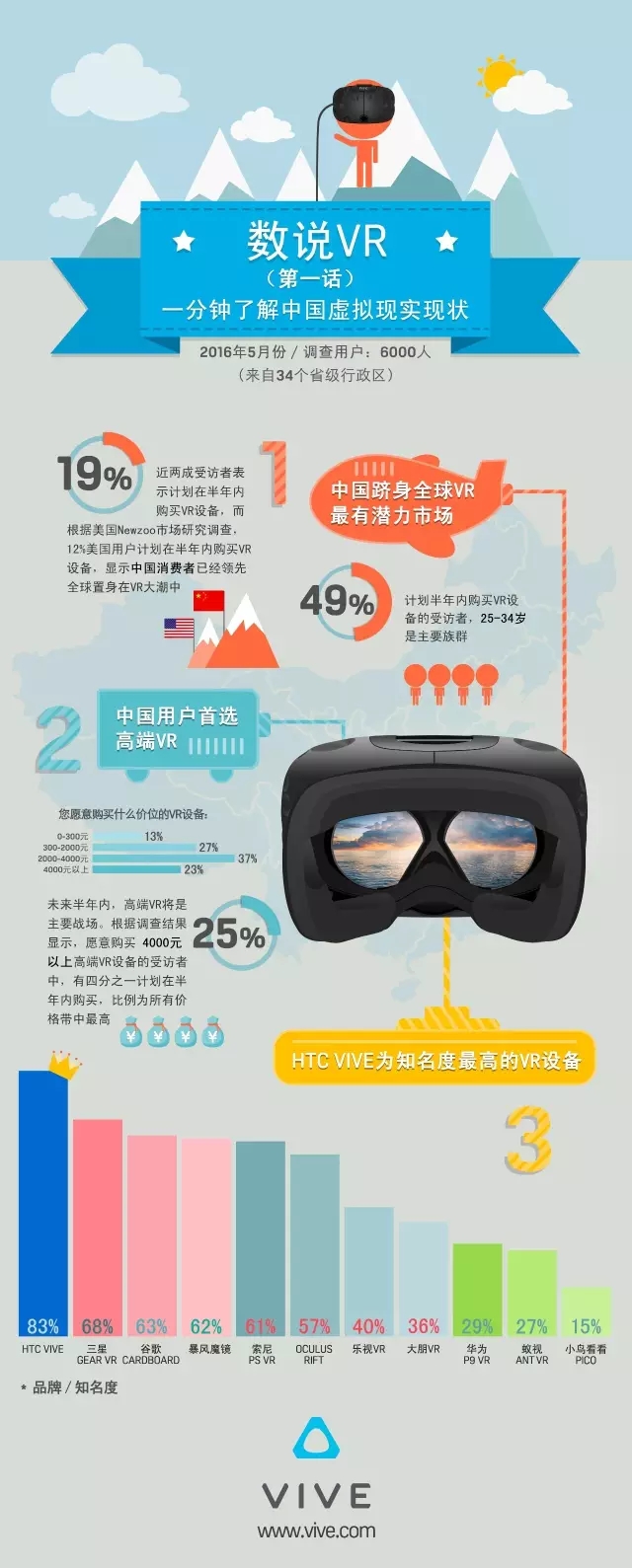 According to the market research report of Newzoo in the United States, in the United States, which is always leading the trend of technology, 12% of people are ready to buy VR equipment within six months and enter the virtual reality world. According to the survey report of "Numbers VR", 19% of respondents indicated that they will purchase VR equipment within half a year. This data is 5% higher than the world-recognized technology capital of the United States. It is obvious that China is in the VR market. The potential value of the lead can not be underestimated.

In addition, among those who are willing to purchase VR equipment within half a year, young people aged 25-34 are the main ethnic group (49%).

User preferred high-end VR

There are many types of VR devices on the market, including low-end mobile VR devices or PC-like VR devices with more immersive sensations. What kind of products do you want to experience in order to purchase VR? Which type of VR equipment do you want to experience?

According to "Numbers VR", 23% of respondents are willing to buy high-end VR products with more than 4,000 yuan, and 37% of respondents are willing to purchase 2,000-4,000 medium-priced VR products. 13% of users have a willingness to purchase VR products below 300 yuan. It is obvious that Chinese users expect high-end equipment for VR, and are willing to pay higher prices to get a better VR experience.

Not only that, but PC-based VR devices are also the main market in the next six months. According to the survey results, 25% of respondents who are willing to purchase more than 4,000 yuan of VR equipment plan to purchase within half a year; 13% of respondents who are willing to purchase 2,000-4,000 yuan VR equipment plan Only six percent of respondents who are willing to purchase VR devices under $2,000 plan to purchase within six months. PC-type VR equipment can be seen at a high price, but it is still the main sales force of the VR market in the second half of the year.

HTC Vive is the most recognized VR product in the market

Finally, in the popularity comparison table of major VR devices, HTC Vive became the most well-known virtual reality product (83% users know HTC Vive); the second, third and fourth are in order: Samsung Gear VR, Google Cardboard, Storm Mirror; the fifth and sixth are: Sony PS VR, Oculus Rift.

Rotary Switch

Main band switch characteristics as below:

- Providing different rotation angles degree for options.

- Including multiple output digital coding modes.

- Including inhibit and parity signal to avoid error.

- Water and oil resistance. (IP65)

- Gold plating double contact points, stable contact resistance, long service life.

- Easy installation







Band Switch,Rotary Type Band Switch,Cnc Panel Band Switch,Rotary Band Switch

Feyvan Electronics Technology Co., Ltd. , https://www.fv-cable-assembly.com